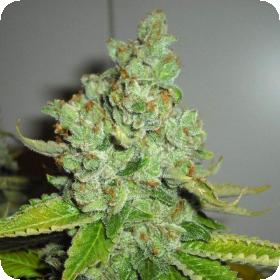 SFV OG Kush Feminised Seeds
The famous San Fernando Valley OG Kush is the strain that first made Cali Connection a talking point. Now many of their original Kush hybrids are able to trace their lineage back to the original SFV OG. This Kush has now been stabilised and refined in order to make this wonderful strain available to the public in an easy to grow seed. The resulting plants have been extremely uniform and grow extremely well outdoors. The yields are relatively impressive and are well worth the time they take to grow. The longer a grower allows this strain to flower the better the resulting harvest will be. The fragrance of the plant is lemony yet spicy with a hint of pine. It is a delicious plant which shows off the best aspects of OG Kush genetics.
This strain is photoperiod and feminised which means it flowers by a specific light cycle and will only grow into female plants. Photoperiod plants will react to a light cycle that mimics the sun though the seasons. This means that they will usually thrive outdoors in the correct environment, or the light cycle can be mimicked by indoor lighting. Feminised strains will only grow into female plants which is very popular amongst growers. Male plants can cause issues during the flowering period which means that they need to be removed beforehand. This can be a huge waste of time, effort and money. Feminised plants are also of a generally higher level of quality and uniformity than regular plants.
This strain can happily grow indoors and outdoors and has a flowering time of 8 - 9 weeks.