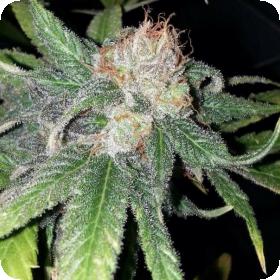 Purple Crack Feminised Seeds
This strain is a combination of the famous Cali Connection strain Green Crack crossed with the famous Blackwater male plant. This strain gives impressive yields along with a beautiful dark purple colouration towards the middle part of the flowering period. The scent is floral yet skunky with undertones of fruit which come from the blackwater male. For looks, taste and yield alone this strain is fast tracked to legendary status and deserves a place in any cannabis collection.
Purple Crack is a feminised photoperiod plant which means that it will grow into only female plants and flowers by a specific light cycle. Feminised seeds have become extremely popular amongst growers due to their heightened quality, uniformity and the fact that they remove the issue of the male plants. The male plants can cause a lot of issues for growers, especially during the flowering process. During this time the males will produce pollen which could damage the buds of the female plants and turn them into seeds. Due to this they have to be removed and this can be a huge waste of time, space and money.
This strain has a flowering time of just 8 - 9 weeks and can give yields of over 500 g/m2.