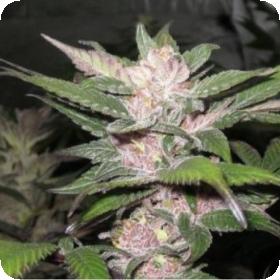 Purple Chem Feminised Seeds
This wonderful strain is a cross between the classic Pre98 Bubba which was reversed to be used as the male and crossed with the original Chem 91 Skunk VA cut. This strain is extremely powerful and is not for the faint of heart.
The strain smells just like purple chemical romance and that enchanting scent will take over any space. Purple Chem also has an excellent taste and over all is a joy to experience.
These high yielding and well-formed plants deserve to take up space in any true grower's collection.
This strain comes in its feminised form which means it will only grow into female plants. Feminised strains are often more popular amongst growers since they remove the issue of the male plants. Male plants can damage a crop during the flowering stage of the growing process.
This means that they have to be removed prior to this stage and since they take up around half of a regular crop this can be a huge waste of money, time and energy. Feminised seeds also tend to be of a higher level of quality and uniformity than regular seeds.
This strain can be grown indoors or outdoors making it ideal for all sorts of growers and breeders. It has a flowering time of around 8 weeks.