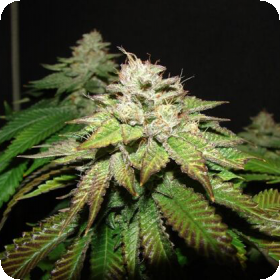 Pre98 Bubba BX2 Feminised Seeds
This strain was created by the breeders at Cali Connection from Pre98 Bubba Kush Genetics. The goal with this strain was to produce a Pre98 Bubba Kush clone in seed form so that it was freely available to the public. The result is a high yielding strain with large and dense buds.
The scent and the taste are reminiscent of chocolate, hash oil and coffee. It is a well structured plant that grows to a roughly medium height meaning that it does not need too much space to grow. This strain is poised to be as popular as the original considering its high resin production and impressive quality. These seeds are photoperiod and feminised.
Photoperiod plants will flower in response to a specific light cycle, this light cycle usually fits in with the seasons and so must be carefully structured by the grower in order to fit with its natural growth cycles. Feminised seeds will only grow into female plants which makes them extremely popular amongst growers who have no need for the male plants. A regular crop is roughly half male and half female which can be a waste of time, effort and money for most growers as the males will need to be removed before the flowering period. Feminised seeds are also of a higher level of quality and uniformity than most other seed types.
This strain has a flowering time of roughly 8 weeks and can be grown indoors, outdoors or in a greenhouse.