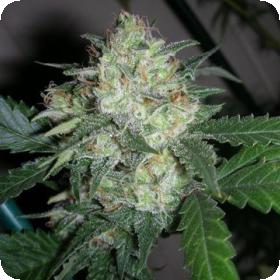 OGiesel is another great strain from the breeders at Cali Connection. It is a cross between the well renowned OG Kush and Giesel. These seeds are likely to become an instant collectable classic due to its extremely high yields and impressive quality.
The strain was created in an attempt to improve the yield of the classig OG Kush whilst also throwing in a touch of the old school skunk power.
The plants will look like Indicas in their solid and robust structure. They will likely remain quite short making them ideal for those who don't have the luxury of space.
These seeds are feminised which means that they will grow into only female plants. Feminised seeds are popular amongst growers primarily since they can improve the growing process.
The male plants, which usually make up around half of a regular crop, can cause a lot of issues during the flowering process and have to be removed. Purchasing feminised seeds can save a lot of time, effort and money.
This strain can be grown indoors, outdoors or in a greenhouse and has a flowering time of 8 weeks.