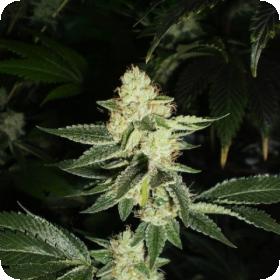 Louis XIII OG Feminised Seeds
Louis XIII OG Kush is another stunning OG hybrid from the breeders at Cali Connection. This strain was crossed with the wonderful OG Kush and the resulting strain is extremely impressive.
The plants of the feminised version are sure to be extremely high in quality and dripping in resin. Towards the later part of the flowering period it is important to stake these plants as their large yield and height can cause them to topple.
The scent and flavour of the strain is fresh and lemony making it an over all enjoyable experience.
Louis XIII comes in its feminised form which means it will only grow into female plants. These plants will usually show better levels of uniformity and be higher in quality than regular plants.
Regular plants can cause a lot of issues for growers who have no plans to breed their own crops in the future. For these growers the males, which make up a large portion of a regular crop, can cause some serious damage during the flowering season.
During this time the females are creating the buds which will later be harvested. If the pollen from the male plants comes into contact with the buds they will turn to seeds and no longer be of any use except for making more plants.
In order to stop this the males must be removed beforehand which can be a huge waste of time, money and effort for growers. Feminised seeds can also be used by experienced breeders.
It is a tricky way to breed but can really pay off. The females are capable, if stressed correctly, of producing feminised pollen which works in much the same way as the male pollen. It is used to fertilise another female and the resulting seeds will also be feminised.
This strain can be grown both indoors and outdoors, has a flowering time of 9 weeks and can produce yields of anything between 250 - 500 g/m2.
Genetics:
Louis XIII OG Kush x Tahoe OG