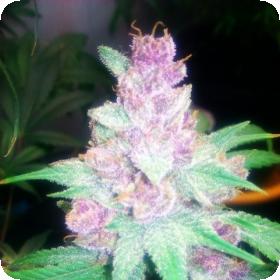 Grape Kush Feminised Seeds
This wonderful strain is an Indica/Sativa cross, around 40/60%. Grape Kush is a cross between the high yielding Grape Romulan and the amazing Pre98 Bubba.
The result is a strain which grows thick stems and has a sturdy frame which comes from the Pre 98 Bubba parents. The Grape Kush has massively improved the yields of the strain.
The flowers have a beautiful floral yet fruity bouquet which is extremely reminiscent of grape, hence the name. It also has a lovely spicy undertone which reminds one of hash and incense.
The Pre 98 Bubba has also given the plant a shorter flowering time which makes it a great strain for any garden.
This strain is feminised which means that its seeds will only grow into female plants. These seeds are extremely popular amongst all sorts of growers due to their improved quality and uniformity.
They are also used by those who do not plan on growing their own seeds since they remove the issue of the male plants. The male plants can cause real problems in a regular crop since they need to be removed before the flowering period.
This means that a grower must identify the males and spend unnecessary time removing them. A regular crop will also grow into roughly half male and half female plants.
This means that removing the males is not only a waste of time and effort but a huge waste of money.
Feminised plants can also be used by more experienced breeders. It is possible to convince the female plants to produce a feminised pollen that is much like the male pollen. This is then used to fertilise another female and the resulting seeds will also be feminised.
Grape Kush can be grown both indoors and outdoors making it perfect for all sorts of growers and breeders. It has a flowering time of 8 - 9 weeks and can produce yields of over 400 g/m2.