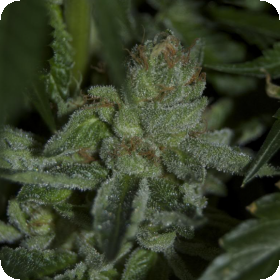 Buddha Tahoe OG Feminised Seeds
This strain has quite the reputation as the very best OG pheno around, and she absolutely deserves it. It is a top quality and heavily resinous plant with impressive potency.
The effect of the strain is extremely uplifting and enlightening making it a superb strain for relaxing in the evening.
This strain was created when the breeders at Cali Connection went through an intense and rigorous selection process and were able to sterilise their Buddha Tahoe OG Kush strain.
The THC in the plants is extra high as are the yields, under the right conditions this strain is unarguably one of the best available. This strain is best for growing indoors as the high resin concentration can cause mould problems when the strain is grown outside.
This strain can be purchased in its feminised form which means it will only grow into female plants. This seed type has gained popularity over the years for its improved quality, uniformity and easy grow nature.
They are especially popular amongst growers who prefer not to have to deal with regular crops which are partly male. Male plants can cause problems for the female plants and, if they are not being utilised for breeding, they are essentially useless.
This means that they usually have to be removed before the flowering process which is a waste of time, money and effort.
Feminised seeds can also be used by experienced breeders. It is possible to stress the females in such a way that causes them to produce feminised pollen. This pollen can then be used to fertilise another female plant.
This process is significantly more difficult than regular breeding and should not be attempted by novices.
This strain has a flowering time of 8 - 9 weeks and has an indoor yield of between 500 - 600 g/m2.