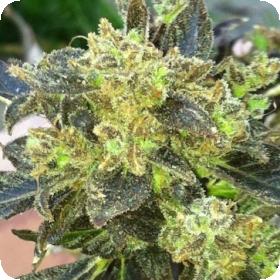 Boss Hogg Feminised Seeds
This strain is named after the famous TV character because he was greedy, had a nice big house, a big car, and he loved to eat. This strain gives an extremely heavy yield and produces gorgeous and high quality buds.
Boss Hogg has a great colour to her, a delightful smell, impressive weight and a potency that is not to be messed around with. This potency comes from her family line and this top-notch strain was a gift from Cali Connection to Cash Croppers.
These seeds will grow into robust, solid plants with impressive side branches and big, sticky buds that are coated in trichromes.
This strain is feminised which means it will grow into female plants. Feminised seeds are also of a generally higher level of quality and of uniformity than regular plants. These seeds are often preferred by growers who have no plans to cultivate their own crops.
For these growers the male plants, which make up around half of a regular crop, can cause a lot of problems. The male plants can turn the female buds to seed if they are left in the same crop during the flowering period.
This means that the males will need to be removed before this can happen which is a waste of not only money and time but energy. Feminised seeds are less popular amongst breeders, but they can be used by those who are a little more experienced.
It is tricky, but possible, to convince a female plants to release a pollen that is quite similar to the male pollen. This pollen will then be used to fertilise another female and the resulting seeds will also be feminised.
This strain can be grown indoors and outdoors, has a flowering time of 65 - 70 days, and can produce a yield of over 500 g/m2.