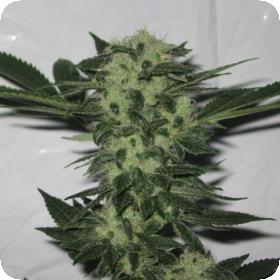 818 Headband Aka Sour OG Feminised Seeds
This lovely hybrid is a Cali Connection Original Sour Diesel cut which goes by a number of names. It has been known as AJ's cut, Asshole Joe and Weasel and was the first cut to come out of the famous Sour Diesel collection.
This strain was the strain that came before East Coast Sour Diesel, an extremely popular strain. This original cut was crossed to the Cali Connection SFV OG Kush male plant.
The result of this breeding is a truly impressive one and is likely to quickly become a favourite in any growers garden. The plants have shown a wonderfully robust structure with solid buds and a delightfully strong sour kerosine scent.
The plant was named after the area in which Cali Connection is situated, the 818. This strain is also an award winner, it won first place in the Hybrid category at the 2011 High Times Cannabis Cup in Michigan. 818 Headband Aka Sour OG can be purchased in its feminised form.
Feminised strains have been bred in such a way that they will only grow into female plants. Feminised seeds were an instant hit after they were created and have only been growing in popularity since.
There are a number of reasons behind their popularity, especially for those who have no plans to cultivate their own crops. For these growers regular plants can prove to be a waste of time, effort and money.
Regular seeds will grow into a roughly even split of male and female plants. The males, if they are not being used for breeding, need to be disposed of before the flowering period. This means around half of the plants are wasted and so is half of the money spent on them.
Feminised seeds are also of a generally higher level of quality than regular seeds and grow into an impressively uniform crop.
This strain can be grown both indoors and outdoors, this makes it perfect for all types of growers and breeders. This strain has a flowering time of 8 - 9 weeks and can give yields of over 800 g/m2.
Genetics:
Original Sour Diesel x SFV OGK IBL