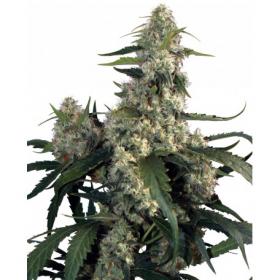 Buddha Seeds Quasar have a distinctive Spanish ancestry and possess what many consider to be a perfect balance of the indica and sativa genes of its parent strains.
The plants have the long branches one associates with a sativa and miniature Christmas tree-shaped flower sites with trichomes that are almost fiery red when fully mature.
Many users laud Quasar for the head-filling stoned effect the indica side delivers while also providing a magnificent all-over body sativa high. The effect is almost purely mellow with no anxiety, nervousness or paranoia.
Quasar's blissful effects are only part of what makes the plants grown from Quasar seeds great. The yield of these plants makes for an exceptional investment for both commercial and personal growers.
Both groups will appreciate the sheer amount of product just one plant can generate, but those who are more apt to dry and store without sharing the fruits of their labour with the masses will find that just a couple of these plants can keep them occupied for months.
The shelf life of these tight, rock-hard buds is very impressive and will keep delivering at the height of their powers longer than they are bound to last.
Grown indoors, Quasar responds well to virtually any grow method but it will take up some space. Be prepared to give it a bit of both height and girth. The branches are strong but will produce even better when tied.
This will also help wrangle some space issues. Be sure, however, to give the branches enough space to distribute light and heat throughout the plant. Outdoor growers should make certain that Quasar is allowed to grow in a frost-free environment.
It resists most moulds and fungi well but it should be looked-after to ensure that it can bear the weight of the sheer number of buds it will produce.
Please remember that the growing of cannabis plants and the cultivation of seeds is illegal in some countries - please check the laws of your country and don't be growing any plants if it is against your country's laws.