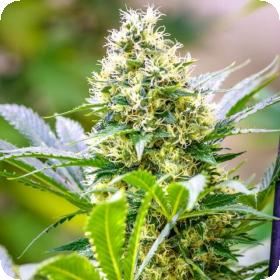 Strawberry Diesel x C99 Feminised Seeds
Strawberry Diesel x C99 grows incredibly thick flowers that continue to bulge and grow fatter and fatter throughout the 8 weeks of flowering. They have a nice strong branching pattern that becomes a classic Christmas tree shape if left unpruned. Watch for the colourful phenotypes to show themselves in the final 3 weeks.
We recommend growing a dominant cola on plants that have been super-cropped to allow lower branches to come up 6" below the apical meristem. An average NPK feeding regimen will work best for most growing styles… they are very forgiving plants – a good choice for new growers still building their skills.
Genetics:
Strawberry Diesel (clone only) x C99 (STS-treated)