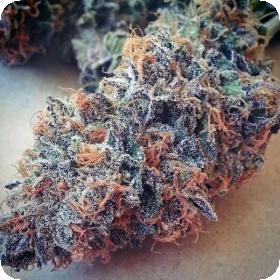 Ultimate Purple Feminised Seeds
Despite it winning many awards, world wide acclaim, and a massive fan base BC Bud Depot's 'The Purps' was not to be stopped. The breeders decided that they wanted to shoot for the sky and ensure that The Purps became the ultimate purple strain.
Amazingly they have accomplished just that, introducing Ultimate Purple! Initially there were a few buds with Purp plants, maybe they were delicious but slow to flower, or they were the most beautiful purple colour but had no potency.
In order to avoid all of these short comings BC Bud Depot decided to combine The Purps with Purple Urkle, Grand Daddy Purple, Grape Ape, and SR71 Purple Kush.
The resulting plant has all the gorgeous purple hues, the potency, the taste, the scent, everything that any grower could possibly want from a purple strain.
Ultimate Purple can be purchased in its feminised form which means that it will only grow into female plants. These plants are very popular amongst growers who have no need for the male plants., In fact the males can often be a nuisance and can harm the female plants.
This means that they need to be removed during the flowering period, a massive waste of time, energy and money. Feminised seeds also tend to be of a higher quality and uniformity than regular plants.
This train can grow indoors or outdoors, has a flowering time of 7 - 8 weeks, and should be harvested in late September.
Remember that the cultivation of cannabis seeds is illegal in some countries, please check the laws of your country before attempting to cultivate cannabis seeds.