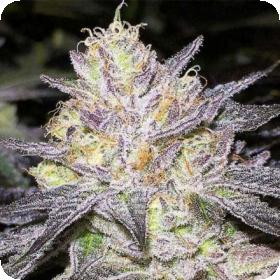 The Cake, or Wedding Cake as it is also known, is an indica-dominant hybrid cross between the Girl Scout Cookies and the Cherry Pie.
It boasts high levels of production and high levels of THC. This is a potent strain with powerful medicinal properties.
The Cake will flower in 8-9 weeks indoors and produces a thick, even coating of white trichomes. This is a dense, thanks strain that is likely to require the use of carbon philtres if it grows indoors near neighbours.
The scent and taste are sweet and tangy with hints of vanilla, earth and pepper. High levels of THC produce an effect that is said to be relaxing, happy and even euphoric. It is also said to be helpful to some people suffering from stress or depression.
Grab a piece of cake and see what everyone's talking about.