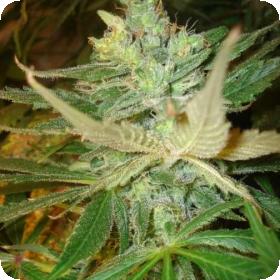 Strawberry Cough Feminised Seeds
Strawberry Cough is a Sativa dominant fruity strain that has an incredibly relaxing effect. This therapeutic strain is perfect for medicinal users who require help with anxiety, depression, and stress. For those who just have trouble relaxing or fancy a nice evening treat this is the perfect strain. It has a smell and taste of ripe strawberries which is almost as euphoric as its effect.
It is a visually beautiful plant which will turn purple in cooler temperatures. It is relatively easy to grow which means it can be purchased by experienced or novice growers.
This strain is a feminised strain making it ideal for growers. Feminsied seeds only grow into female plants which can save growers a whole lot of time and money. Around half of a regular crop will be male and, since the male plants have to be removed during the flowering process, this can mean buying twice as many seeds for the same number of female plants.
Almost every strain that has been feminised has shown marked improvement in its uniformity and its quality. Feminised seeds can also be used by very experienced breeders.
Strawberry Couch grows indoors, in a greenhouse or outdoors in hotter climates. It has a flowering time of 9 weeks and should be harvested in October.
Remember that the cultivation of cannabis seeds is illegal in some countries, please check the laws of your country before attempting to cultivate cannabis seeds.