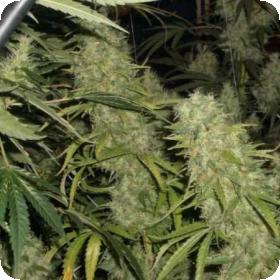 Skunk #1 x Northern Lights Feminised Seeds
In Skunk #1 x Northern Lights is a combination of two of the most amazing strains currently going. This is one for all of the connoisseurs out there and the professional growers. It gives an amazing yield of potent, powerful buds that have an amazing effect. Not only does this plant gives amazing results but it is really quite easy to grow. It has large leaves which makes it easy to cure and it grows enormous buds.
It is extremely stable and can survive most conditions making it perfect for novice growers and experts alike. The scent is spicy yet earthy with an undertone of pine. This is also an amazing commercial strain which has incredible bag appeal.
This is a feminised strain which means it will only grow into female plants. Almost 100% of strain that have been feminised have shown marked improvement in their quality and their uniformity. Feminised seeds are primarily popular amongst growers who don't want to have to deal with the male plants. The male plants can harm the females in a crop and would need to be removed during the growing process.
This can waste a lot of time and effort as well as a huge amount of money. Feminised seeds can also be used by breeders, however the process by which two females are bred together is extremely difficult and should only be attempted by an experienced breeder.
This strain can grow indoors, outdoors or in a greenhouse. It has a flowering time of 55 - 60 days and should be harvested at the end of October.
Remember that the cultivation of cannabis seeds is illegal in some countries, please check the laws of your country before attempting to cultivate cannabis seeds
Genetics:
Skunk #1 x Northern Lights