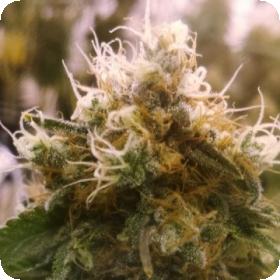 Honey OG is a combination of two extremely well known strains, the male was OG #18 and the female was Amnesia. The resulting strain may not be the easiest in the world to grow, but the effort it takes to cultivate is so very worth it.
This strain can produce enormous yields of potent buds with a THC level of up to 28%. It has an effect that will knock the socks off even the most seasoned grower. The scent and flavour are of pleasant citrus and earth.
One growing tip for this strain is little and often when it comes to watering, it doesn't do well if its too soggy.
This strain is feminised which means that it will only grow into female plants. Almost all plants that are feminised are improved in both quality and uniformity. Growers prefer to use feminised plants because the male plants can be a massive nuisance.
The male plants need to be removed during the growing phase which is a total waste of time, space and money. Breeders can also use feminised seeds to breed their own crops but it is a very difficult process and should only be attempted by experienced growers.
Honey OG can be grown indoors or outdoors and has a flowering time of 63 - 70 days.
Remember that the cultivation of cannabis seeds is illegal in some countries, please check the laws of your country before attempting to cultivate cannabis seeds.