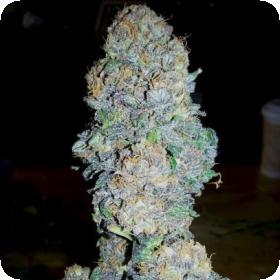 God's Gift Feminised Seeds
God's Gift is an S1 Hybrid of OG Kush and Grand Daddy Purps as well as a Best Indica winner in the 2015 Bio Cannabis Cup in Spain. The result is a powerful, flavourful strain that gives an incredibly relaxing yet euphoric effect. Medicinally it is often used to combat pain, stress, fatigue and a lack of appetite. It has an extremely powerful scent with a smooth, sweet smoke.
The flavour is one that will linger for what seems like forever and the resulting high is almost inspiring, clear and motivational. Perfect for getting things done in a fun way, especially creative pursuits. The long and short of it is that God's Gift has earned its name.
God's Gift is a feminised strain which means that it will only grow into female plants. These are very popular amongst growers who can't be bothered with the male plants who just take up space, time and money that would better be used on female plants. They can also be used by breeders who want to breed their own feminised crops.
However this is much more difficult than regular breeding and should only be attempted by experienced breeders. Almost all strains that have been subjected to feminisation have improved not only in quality but also in uniformity.
This strain can be grown indoors or outdoors and has a flowering time of 8 - 9 weeks.
Remember that the cultivation of cannabis seeds is illegal in some countries, please check the laws of your country before attempting to cultivate cannabis seeds.
Genetics:
Grand Daddy Purps x OG Kush