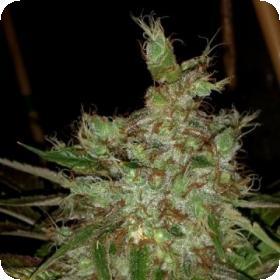 Garlic Cheese Feminised Seeds
Garlic Cheese is a fun new version of the famous and much loved Cheese plant. Cheese is an amazing plant that was created in Britain in the 90s and has been one of the most popular plants in the world since.
In this hybrid Cheese has been crossed with Afghani Garlic Bud which has produced an Indica dominant strain. The taste of the strain is a combination of spice, earth and cheese as is the scent.
The effect is happy and relaxing and the buds are short but wide with just amazing yields. Over all this is ideal for Cheese lovers who are looking to shake things up a little bit.
Garlic Cheese is feminised so that the seeds will only grow into female plants. Feminised seeds ensure that no time, effort or money is wasted on unnecessary male plants. Growers, who do not plan on breeding their own crops, have no need for the male plants.
The males can even be a danger to the females during the growing process and would need to be removed.
Almost every strain that has been feminised has shown marked improvement in their quality and in their uniformity. Feminised seeds can still be used for breeding, however this process is extremely difficult and should only be attempted by experienced breeders.
Indoors this strain has a flowering time of 7 - 8 weeks and outside it should be harvested in the middle of October.
Remember that the cultivation of cannabis seeds is illegal in some countries, please check the laws of your country before attempting to cultivate cannabis seeds.