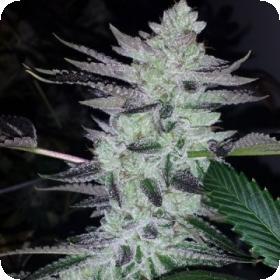 Delinquent OG Feminised Seeds
This Indica dominant strain was given its name because the hip-hop act, Delinquent Habits, helped to choose it. It is a cross of OG #18 and Flow, a combination of amazing OG and Purple Thai genetics which results in an awesome assortment of scents. It is also possible to see the Purple Thai genetics in the physical attributes of the plant, as it matures it takes on some beautiful purple hues.
It has a sweet flavour with notes of earth and pine. Over all this strain is just a delight to grow and to smoke and should be in every garden.
Delinquent OG is a feminised strain which means it will only grow into female plants and will flower in response to a specific light cycle. Feminised strain are usually stronger, better quality and more uniform than regular plants. Male plants are an issue for growers as they can harm the female crops, therefore they need to be removed.
This is a massive waste of time, money and effort for most growers. Feminised seeds can also be used by expert breeders to create more feminised seeds. If female plants are stressed correctly they can produce feminised pollen which does the same job as the male pollen. Again this is a difficult process and should only be attempted by experienced breeders.
It has a flowering time of 56 days and should be grown indoors.
Remember that the cultivation of cannabis seeds is illegal in some countries, please check the laws of your country before attempting to cultivate cannabis seeds.