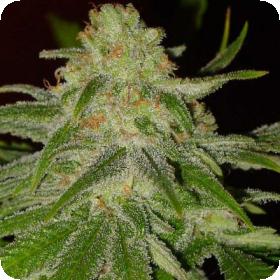 Cinderella 99 Feminised Seeds
Cinderella 99 was previously referred to as the Holy Grail of the Sativas. This is due to the production of fat, resinous buds in what amounts to a double-quick time for strains that are so heavily sativa-dominant.
This is primarily an indoor strain, 85 per cent sativa, which lasts 8 weeks, or a few days longer, to finish flowering and ends up looking just like a snow-capped Christmas tree, so its resin-covered appearance is white.
Its dense buds are ball-shaped, and the plants have few leaves requiring manicure.
As with many sativa plants, Cinderella 99 responds well to SCRoGGing, a practise that allows better exposure to budding sites throughout the plant, resulting in higher and higher quality harvesting.
There are three phenos, all of them with a tropical fruity character, but ranging from pineapple to grapefruit to a more floral-fruity taste. The effect is extremely psycho-active in a real sativa style.