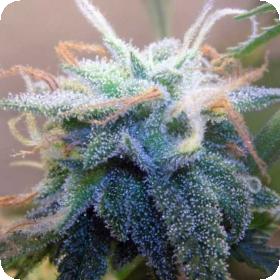 BC White Widow Feminised Seeds
Since it was created in the early 1990s White Widow has remained one of the most potent and powerful strains in existence. It was released into the coffee shops of Amsterdam and took off like a rocket. Tourists came from all over the world to try this amazing new strain and now BC Bud Depot have released their own version. Originally White Widow was created by crossing a South Indian Indica strain with a Brazilian Sativa strain.
This combination gave the plant its resinous, frosty appearance, after which it is named. The strain is designed to be as potent as possible and the effect comes on quickly. After the initial mind melting power the effect settles into a rather pleasant relaxation which is perfect for enjoying the most beautiful aspects of life.
BC White Widow is a feminised strain which means that it will only grow into female plants. Almost every strain to be feminised has shown improvement in their quality and their uniformity. They are also handy for growers who don't plan on using the males for anything. In this case the male plants are just a problem for the grower and would need to be removed.
Since the male plants make up around half of a regular crop this is a massive waste of money and effort. It is possible to breed with feminised seeds, but it is extremely difficult. If the females are correctly stressed they produce feminised pollen which can be used to fertilise another female.
This strain isn't fussy and can be grown almost anywhere, its flowering time is around 8 weeks and it should be harvested outdoors in October.
Remember that the cultivation of cannabis seeds is illegal in some countries, please check the laws of your country before attempting to cultivate cannabis seeds.