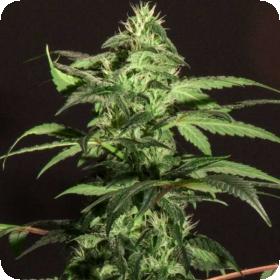 BC Jack Herer Feminised Seeds
Jack Herer is widely accepted to be one of the best strains on the market. It is a multiple award winner and was named after the cannabis activist and author Jack Herer who wrong the amazing book 'The Emperor Wears No Clothes'.
This high yielding, potent hybrid is the result of years of careful breeding. It has a 21.5% THC level and a powerful, uplifting, happy effect that is perfect for medicinal and recreational use.
Medicinally it is known to help with fatigue, pain, lack of appetite and stress. The strain is actually officially recognised by the Netherlands as a medicinal strain and is available through their pharmacy network.
Its aroma is a strong Skunk smell with fruity undertones as well as the fresh pepper of the Haze.
This version of Jack Herer is also feminised which means it will only grow female plants. Most growers prefer this so that they don't have to go through the rigmarole of dealing with the male plants.
Usually they would be removed to stop them from hurting the female plants, this is a massive waste of time, effort and of course money. A grower can buy twice as many female plants for the same price if they are using feminised seeds.
Feminised seeds are also usually higher in quality and in uniformity than regular seeds.
This strain can be grown indoors or outdoors and has a flowering time of 8 - 10 weeks.
Remember that the cultivation of cannabis seeds is illegal in some countries, please check the laws of your country before attempting to cultivate cannabis seeds.