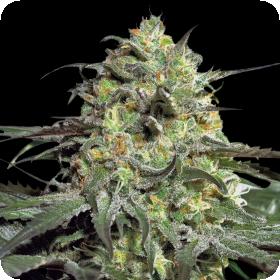 Peyote Cookies Feminised Seeds
This superb hybrid originally comes from a cross between Peyote Purple and Cookies Kush, two legends in their own right. The very best qualities of each parent plant were painstakingly back crossed into the strain, until Peyote Cookies was absolutely perfect. The resulting plants are easy to grow, vigorous and extremely hardy. The flowers of the plant bloom into a stunning red and purple hue as they mature.
Peyote Cookies can take on mildew and mould making it ideal for indoor or outdoor growing. Its effect is long lasting and relaxing which makes it ideal for those suffering from headaches, pain, stress, a lack of appetite or insomnia. It has a fruity yet earthy flavour with a lingering afterthought of vanilla. Over all there are few strains quite as impressive as Peyote Cookies.
This strain comes in its feminised form which means the crop will be all female. Most growers prefer to use feminised seeds now since they totally remove the issue of the male plants. Male plants can cause a lot of issues in a crop and need to be removed during the growing period. Since about half of a regular crop will be male this is a huge waste of time, money and effort. Feminised seeds can also be used by breeders, however breeding using only females is a tricky task. The females have to be stressed in such a way that makes them produce feminised pollen. However the resulting seeds will be of a higher quality and better level of uniformity than regular seeds.
Peyote Cookies has a flowering time of 49 - 55 days and can be grown indoors or outdoors.
Keep in mind that the cultivation of cannabis is illegal in several countries. Please check the laws of your country before attempting to grow cannabis seeds.
 
Genetics:
Peyote Purple x Cookies Kush