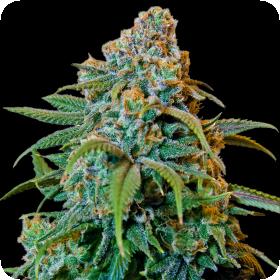 Liberty Haze Feminised Seeds
Barney's Farm Liberty Haze feminised seeds has a long and complex history. There are a number of rumours circulating about its actual origins, but we know who its parents are: the legendary Chem Dawg 91 and G13, both of which are awesome strains in their own right.
Merge the best of both into one and you have an experience that is truly unique and very satisfying. It's not the biggest plant out there but it is a real example of how size doesn't always matter.
A mature Liberty Haze plant stands a proud 2.5-3 feet high and produces long, stout colas that become more dense as the plant matures.
There are a number of different descriptions of how this plant smells and tastes. Many enthusiasts recognise hints of lime and other tangy, citrusy notes while some even say they smell a hint of steeped tea leaves.
With so many opinions, it is clear that this strain not only offers a unique experience, but a personal one as well - not a claim that all cannabis varieties can make.
Flowering time for Liberty Haze is about 8-9 weeks on average. It is well-suited for growing indoors and outdoors and, like most varieties, will not grow as tall indoors as it will out.
The height of the plant rarely impacts the yield, however, so it is not uncommon to harvest a good 600 g per square metre of extremely potent buds. THC levels in this strain reach very high levels with a staggering 1.3% CBD concentration.
Liberty Haze was awarded High Times 2011 Cannabis Cup and, given its genetics, there really is no big mystery as to why.
These seeds are feminised so growing is easy - even for inexperienced growers, germination rates are very high and production is very consistent.
Please remember that the growing of cannabis plants and the cultivation of seeds is illegal in some countries - please check the laws of your country and don't be growing any plants if it is against your country's laws.