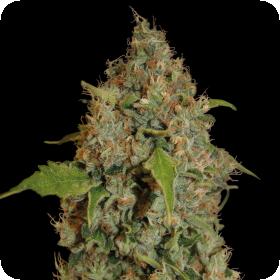 Chronic Thunder Feminised Seeds
Chronic Thunder seeds from Barney's Farm possess the fine qualities growers and cannabis enthusiasts alike have come to expect from such an iconic seed bank and its many award-winning signature strains.
Chronic Thunder provides growers with a generous yield, owing in large part to its Chronic parentage. It's uniqueness comes from the addition of the THC abundance found in the Alaskan Thunder line.
Its bouquet is very tart and citrusy yet extremely pleasing at the same time. Its taste mirrors these attributes nicely when lit.
The effect is soothing and relaxing and suitable for most medical uses. The plants grow nicely compact - a plus feature for growers with limited space. At full maturity most plants will not even top one metre under most growing conditions. It's flowering phase is only 8 weeks on average.
Grow Chronic Thunder indoors out outdoors. Indoors, it responds well to ScrOG and SOG growing methods, and while neither will spped up the flowering phase, they will provide a more potent end product in the same amount of time.
Outdoors, it is harvested late September to early October in the Northern hemisphere. Growers will find that Chronic Thunder does exceptionally well under greenhouse conditions also.
Maximum yield is very generous: about 600 g per square metre, especially when grown indoors. THC ranges from high to very high and CBD levels are also high.
Cannabis enthusiasts all over the world laud Barney's Farm for producing ever more innovative strains of cannabis. Their innovative blends of landrace genetics with popular and stable sativas and indicas have been cultivated to minimise flowering cycles and maximize yields.
Barney's Farm's commitment to both cultivating and preserving the best cannabis plants in the world is simply unmatched. When you purchase seeds produced by Barney's Farm, you are supporting a global leader in the production of top-quality cannabis seeds.
Please remember that the growing of cannabis plants and the cultivation of seeds is illegal in some countries - please check the laws of your country and don't be growing any plants if it is against your country's laws.
Genetics:
Chronic x Alaskan Thunder