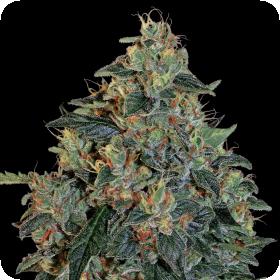 Blueberry OG Feminised Seeds
Blueberry OG is a cross of two of the most popular strains around, Blueberry and OG Kush. These strains have come together to create a truly unique and exciting strain that deserves a place in any growers garden.
The effect of the strain is much as one would expect, a relaxing yet euphoric feel that makes it a wonderful painkiller as well as an excellent recreational strain. The scent is, of course, one of sweet blueberries and fruit making it an extremely enjoyable smoke.
The plant is not only impressive in its flavour and its effect but in its production. Blueberry OG gives an extremely impressive yield as well as producing a high amount of THC filled resin. Over all a truly impressive strain from the talented breeders at Barneys Farm.
Blueberry OG comes in the form of feminised seeds meaning that the crop will be entirely female. This means that growers will not have to deal with all of the problems which are usually presented by the pesky male plants.
In a regular crop around half of the plants will be male and the other half will be female. This means that around half of the crop can be wasted when it comes round to the flowering period.
During this time the males need to be removed from the female plants in case they damage the precious buds and turn them to seeds. This can be a considerable waste of time and money for the grower as well as being a waste of energy.
Feminised plants are usually of a higher level of quality and uniformity than regular plants. Feminised plants can also be used by skilled breeders.
The female plant can be stressed in such a way that forces her to release a feminised pollen much like the male pollen. If this pollen is used to fertilise another female she will create feminised seeds.
This strain can be grown indoors and outdoors making it ideal for all types of grower and breeder.