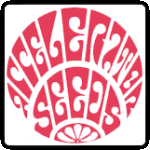 Accelerator Seeds is a relatively recent seed bank located in Amsterdam. It has already caused quite a stir in its short life in the Dutch cannabis scene, winning several awards at various cannabis competitions since 2015.
Accelerator Seeds focuses on the creation and supply of its collection of rare and special genetics, created by breeders with a passion for the preservation of the finest cannabis in the world , in addition to its commitment to distribute only proven and tested strains.
Using a fantastic collection of regular (i.e. not feminised) mothers and fathers from near and distant locations, they present their Accelerator Line.
From pure sativas to really heavy indices and taking some lovely cannabis hybrids in between; all the strains of Accelerator Seeds have been quality-tested for viability, vigour, variation, stability, strength and flowering.
As they say to themselves, 'Stick with Accelerator and you will see, smell and taste the difference.'