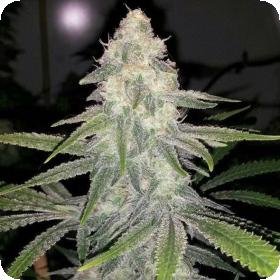 White Widow Feminised Seeds
White Widow is one of the most famous and popular strains in existence today. It is the favourite strain of Amsterdam and can be found in almost every single coffee shop.
It is most renowned for the amazing amount of resin it produces which can make the plant appear to be almost completely white. The leaves are dark and shiny but still have quite a lot of surface area.
The scent of the plant is very powerful as well as being very sour and sweet. The production of the strain is not as high as some but the resin coating is unrivalled.
The potency of the strain is extreme and it has a powerful uplifting and energetic high. White Widow makes a wonderful medicinal strain and is often used to battle the effects of stress, pain, depression, insomnia and a lack of appetite.
Outside of medicinal purposes this strain is great for getting creative and maybe trying a new hobby or for socialising.
White Widow has been used as the base for a number of other famous hybrids such as White Russian, White Rhino and Blue Widow. Really this strain speaks for itself and is certainly one that every grower and breeder should have in their collection.
This version of White Widow by 710 Genetics is feminised which means it will grow into high quality female plants. 80% of strains which have been feminised have shown improvement in both their quality and their crop uniformity.
They are often used by growers as they remove the issue of the male plants. Male plants can really be a problem for those who do not need them for breeding as they can harm the female plants during the growing process.
This means that usually the males should be removed at the start of the flowering process which can not only waste time and energy but money.
Around half of a regular crop is comprised of male plants and so around half of the money spent on seeds could be wasted. Feminised seeds can also be used by experienced breeders.
The way in which female plants are bred together is a little trickier but very rewarding. A female plant must be treated in such a way that she releases a feminised pollen. This pollen is then used to fertilise another female plant.
White Widow can be grown indoors and outdoors, has a flowering time of 8 - 9 weeks and should be harvested in October.