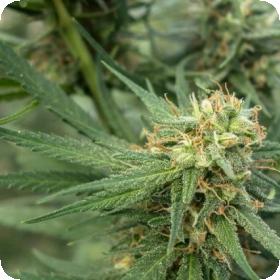 Pure Jack Feminised Seeds
Pure Jack is one of the very finest strains available from 710 Genetics. It may, in fact, be one of the most unique strains in existence.
It is a combination of the every popular Jack Herrer and an Elito Clone, the result truly deserves to go down in history as one of the greatest strains available.
At their peak during the growing cycle the flowers of this strain will be completely covered in resin to the point where they appear as though they have been sugar coated.
This crystal covering extends as far as the spear shaped leaves, the fan leaves and to the very stems and stalks of the plant.
It enjoys the same trait which is a part of all pure Jack phenotypes which is the effect, it effects both the mind and the body with an extremely powerful and relaxing buzz.
This makes it a great strain for anyone suffering from night time pain or sleep issues.
Pure Jack is a feminised strain which means it will grow into only female plants. These strains were perfected by the Dutch Passion seed company and have been growing in popularity ever since.
At their base level many prefer them simply because they are of a higher quality and uniformity than regular seeds. In fact 80% of strains which have been altered in this way have shown improvement in both areas.
As well as this they are extremely popular amongst growers who have no plans to grow crops of their own. For these growers the male plants are not only useless but can actually be an issue.
They have the potential to harm the female plants during the growing process which means they need to be removed. Since around half of a regular crop is made up of male plants this can waste a lot of time and money.
Breeders can also use feminised seeds if they are experienced enough. They need to have the ability to stress a female plant into releasing feminised pollen. This pollen is then used to fertilise another female plant and the resulting seeds will also be feminised.
This strain can be grown indoors or outdoors making it ideal for all types of grower and breeder. It has a flowering time of around 10 - 11 weeks and outdoors it should be harvested in November.
Genetics:
Jack Herrer x Elite clone