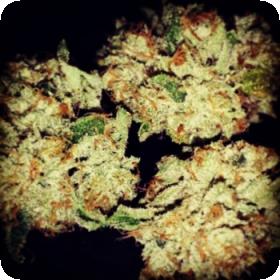 MANGO (previously Somango), one of 710 Genetics' most popular strains, is an Indica dominant multiple hybrid of Jack Herer and Big Skunk Korean.
The plant generates a moderate yield and complete blooming in 63-70 days, making it a highly fruity variety.
Mango is ideal as a multi-branched plant since its genetics promote long side branches and a rather tall height. 
The leaves turn purple as it matures, and the buds are covered in a sea of crystals.
Mango offers a strong buzz that is extremely uplifting, psychologically stimulating, and can leave you chattering for hours, thanks to its aromatic fragrances and exquisite flavour.
Genetics:
Jack Herrer x Korean x Big Bud