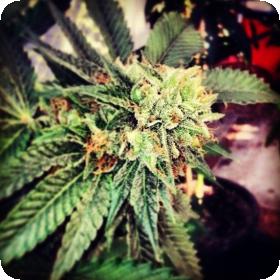 Berry OG Kush Feminised Seeds
This aptly named strain received its moniker from its berry scent and its fruity sweet flavour. These attributes mean that it is not only extremely powerful but delicious and easy to enjoy.
It is most renowned for its relaxing and stress relieving capabilities along with its light, euphoric buzz. This strain is thought to be one of the strongest currently available on the market.
It is not only an extremely pleasant plant for recreational reasons but it also has a lot of medicinal capabilities. It has been known to relieve some of the symptoms of debilitating diseases such as migraines, arthritis, ADD, phantom limb pain, and anxiety.
This strain is also highly resinous with large, tight buds which are dark in colour. In order to render the strain more user friendly, especially for those who may be growing in bulk for medicinal use, these seeds have been feminised.
For some time now feminised seeds have been one of the most user friendly growing options available to the cannabis community. The alteration is a simple one yet extremely effective.
Feminising seeds simply means that all of the subsequent plants will be female. For modern growers, especially those who do not intend on breeding this is an extremely useful trait as it removes the threat of useless male plants.
The only function of the male plant is to produce the pollen necessary for fertilisation of a female plant. This is the most simple breeding method all though it is also possible to use female plants for the same purpose.
This is an extremely difficult endeavour which should only be attempted by professional and experienced growers. The female plant can be convinced to produce feminised pollen which can then be used to fertilise a female plant.
The results can often be higher in quality and uniformity. However for those who do not wish to breed their own crops male plants take up time, space, and money which could be much better spent on the productive female plants.
Berry OG Kush is very versatile and can be grown indoors or outdoors, this makes it accessible to all types of grower. The THC content is impressive and it can grow to a height of 150 - 200 cm. The strain takes 8-9 weeks to grow and should be harvested in October.
Please remember that the growing of cannabis plants and the cultivation of seeds is illegal in some countries - please check the laws of your country and don't be growing any plants if it is against your country's laws.