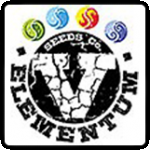 V Elementum Seeds is a Spanish breeder that you may not be familiar with, but the keen cannabis enthusiasts out there will almost certainly have enjoyed some of their marijuana strains before.
For more than 15 years, they have worked with leading Dutch seed banks producing strains that have won major awards in various cannabis competitions.
They were the winners of the 1st twice. Award at Barcelona's famous Spannabis, first in 2008 and then again in 2015, among many other successes they have achieved.
Now its breeders have launched their own seed bank, the V Elementum.
Although the range of feminised and self-flowering cannabis seeds offered by V Elementum is quite small, you can be certain that all of their strains have well earned their right to be included. Only genetics that meet the strict standards of stability, aroma , taste, potency and yield are added.
Each strain must be distinctive and of a knowledgeable quality. Strains such as the tasty Caseus (Cheese), sweet Candy Fruit, both available as self-flowering seeds, the spicy Star and the mouth-watering Papaya will have growers and smokers coming back for more.