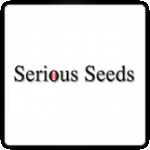 Serious Seeds is one of the longest established seed-companies in Holland, concentrating on the production of high-quality, stable and consistent varieties of cannabis seeds.It was founded by Simon, an former biology teacher who became fascinated by cannabis after a trip to Africa in the early 80's.
Whilst in Africa Simon started collecting seeds purely out of interest, and when he returned home, Simon started growing the seeds he had collected. He worked with Sensi Seeds for a few years, before forming his own company with some Americans in 1994.
That company fell through, but Serious Seeds was quickly built in 1995 on the popularity on their 'AK-47' and the 'Chronic' strains. Serious Seeds have been regarded by many as the greatest seed bank to ever grace this earth.
Serious Seeds strive to develop new and interesting high-quality varieties of cannabis seeds. Serious Seeds also produce plants with good medicinal properties, which are stable and easy to grow. Lab tests have shown that their strains produce some of the strongest plants (highest in THC-content) available on the market today, averaging between 18-22% THC.
We offer you high quality strains, including the famous Double Dutch and Warlock, all high quality strains you don't want to miss out on!
Please remember that the growing of cannabis plants and the cultivation of seeds is illegal in some countries - please check the laws of your country and don't be growing any plants if it is against your country's laws.