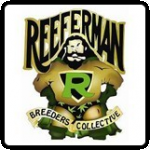 Reeferman is one of Canada's pioneer cannabis breeding operations. They entered the cannabis scene back in 1996, operating as Prairie Seeds. They later sold under the Prairie Fire label under Emery Direct distribution. If you are familiar with any of these names, you already know about Reeferman. You also know the quality of the products they develop.
The Reeferman himself, Charles Scott, has put his innovative skills to work repeatedly to develop hundreds of unique strains. Some of the genetics from those strains have been utilised in hybridization projects throughout the world.
Reeferman has had a global presence in cannabis breeding since 2003. They won the award for #1 Seed Company at Spain's Sativa Cup In 2004 and has been winning prestigious industry awards ever since. Charles has contributed considerably to research on medical Cannabis and is the current R&D Director at Medijean, a British Columbia-based cannabis research organization.
Even better, Charles currently holds one of the world's premier licenses for cannabis genetics research. He has also co-founded Revolution Medical Solutions Europe. The company researches and develops cannabis genetics for medical applications along with treatment programs designed to address physical, mental and emotional conditions that are treatable with medical marijuana.
Reeferman also maintains an edge in global cannabis breeding for recreational applications. Charles' work in that regard involves popular strains dating back to the 1970's including Panama Red and the iconic Santa Marta Gold. His philosophy addresses the decline of quality cannabis genetics brought on by excessive cloning and inbreeding. He maintains a steady diversity of genetics which yields plants that are strong, stable and healthy. This strategy will ensure the availability of quality genetics for many years to come.
BEWARE OF IMITATORS. The Reeferman regular seeds available through The Vault are the real deal. We always guarantee the quality and authenticity of the seeds you buy.