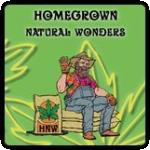 Homegrown Natural Wonders is a Pacific Northwest family farm with three generations working together to breed and produce the most graceful, dense, delicious and effective medicinal flowers — and the seeds to grow them — that you are likely to find.
Odie Diesel masterfully puts to work the skills and advice handed down from his own father while teaching his sons how to combine spectacular genetics and produce breathtaking strains with superior effects.
They won three consecutive 1st place overall awards at the Oregon Medical Cannabis Awards, with MAD SCIENTIST winning back-to-back in 2011 and 2012, but then losing the crown to their own offspring in 2013, when DR WHO (MAD SCIENTIST X TIMEWRECK) took the lead.
These guys are always working on something new and better, and since 2013 they've come up with two strains — Micky Kush and Quantum Kush — which regularly produce flowers that test more than 30% for THC!
Although they have a whole host of strains to choose from, when you ask Odie which one is his favourite, he will inevitably reply, "Which new one we're waiting to get out of the flower next."