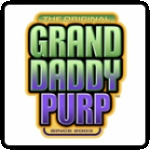 Grand Daddy Purple Genetics is run by Ken Estes, he is a sufferer of an illness that means he himself requires medical marijuana and understands the quality that is needed by sufferers to achieve real pain and symptom relief. For many years Ken has been working to create the best hybrid strains that have a real and lasting effect, he has been advocating the use of medical marijuana for 20 years and is extremely passionate about the cause.
Grand Daddy Purp is famed for producing strains that give you a high level of pain relief without causing you to completely zone out. This is very important for those who need to take medical marijuana as whilst they obviously require the relief from the symptoms of their illness no one wants to be in a constant state of disorientation and fatigue.
His strains have a reputation for being extremely effective against any loss of appetite or gastrointestinal issues, illness, injury, and glaucoma as well as many other issues that can disrupt your day to day life.
Ken focuses completely on his customers and their needs, he has a great deal of empathy for those who require medical marijuana. Unfortunately a motorcycle accident left Ken paralysed from the neck down, you can read his incredible story on his website but the gist is that without medical marijuana he would not have revived his appetite, this in turn gave him the strength to focus on his recovery and he did indeed recover to an extent where he did not have to live in a rehabilitation centre.
Ken Estes understands how important certain traits in medical marijuana are and focuses tirelessly on perfecting his strains so that they deliver everything that a patient could possibly want or need. He just wants to help people in the same way that he was helped.
Please remember that the growing of cannabis plants and the cultivation of seeds is illegal in some countries - please check the laws of your country and don't be growing any plants if it is against your country's laws.