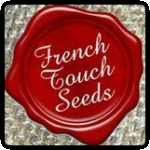 French Touch Seeds is a collective of respected, passionate breeders whose name is synonymous with healthy, serenely easy to grow seed strains. Thanks to their philosophy which places an emphasis on simplicity, recycling and economy, this breeder produces affordable, connoisseur-grade strains with an unmistakeable touch of Gallic flair.
With the fine selection of feminised, auto-flowering and regular seeds (including landraces) in their line-up, French Touch Seeds will give your collection a real touch of Va Va Voom!
French Touch Seeds is notable for their commitment towards preserving old, rare varieties of seed strains, to ensure that these precious genetics do not get lost to the mists of time: Towards this end, French Touch Seeds is making real waves among the seed collecting community with the addition of some exotic landraces from around the world, including the famous K1 and Mangu'Carot, which can trace their lineage back to Réunion Island in the Indian Ocean.
Please remember that the growing of cannabis plants and the cultivation of seeds is illegal in some countries. Be sure to check the laws of your country and don't grow any plants if it is against your country's laws.