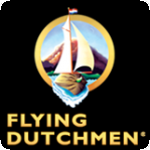 For true cannabis seed connoisseurs, few brands are as fondly celebrated as the famous Flying Dutchmen (TFD).
This legendary brand has been selling top-quality, great-value seeds since the late 1990s: A tradition which continues to this day, with their catalogue of strains only increasing in quality and quantity with each passing year.
Whilst no trip to Amsterdam would be complete without a trip to these guys' store, The Vault Cannabis Seeds store is proud to ship TFD's seeds direct to your door!
Some of the seed strains supplied by TFD include:
Nepal Kush
For hash fans, this spectacular Nepal Ganja/Kush hybrid won't disappoint. Don't be deceived by its short stature: This compact, heavy-yielding and resinous strain has the power to send one's mind to a place that is higher than the Himalayas.
Flying Dragon
A perfect 50/50 mix of Sativa and Indica, with South East Asian genetics, this powerful strain is revered for its soaring highs and deep, rumbling, epic full-body stone.
Voyager
This trailblazing cannabis seed strain can trace its genetic lineage to a number of exotic locales: Columbia, Tajikistan and Papua New Guinea derived genes combine to produce a masterful blend which is prized for its tangy, spicy flavour, potent cerebral effects and incredibly high yield potential.