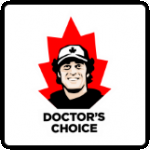 Doctor's Choice is the new vehicle in which the premium Lowryder-based auto-flowering seeds of the Joint Doctor will be sold.
Lowryder was the strain which started the entire auto-flowering phenomenon which slowly but surely became a booming industry in itself that now accounts for 60-70% of all European marijuana seed sales.
Working with a so-called Mexican-Ruderalis strain, the Joint Doctor crossed it with Northern Lights # 2 and then isolated certain plants with auto-flowering qualities by diligent selections and cross-bred them until these traits were locked in and stabilised. Later on, the improved Lowryder # 2 joined the original Lowryder strain, followed by additional cars such as Ogre, Chronic Ryder, Diesel Ryder, etc.
In this latest phase of the Joint Doctor's quest, new strains such as Devotchka, Rock Machine, Niagara and Doctor's Choice # 1 are introduced to complement strains such as Lowryder (2), Chronic Ryder, and Ogre.