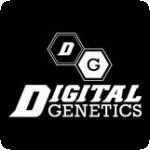 Digital Genetics is a new breeder from Canada. The aim is to create new varieties of medical marijuana seeds with an exotic terpene profile and unique aesthetics.
Strains are high yielding and vigorous for new and seasoned growers. Their strains are crossed with some of the best cannabis seed genetics available on today's market.
The collection is done by hand, ensuring the best selection among them under constant control of temperature and humidity for optimum preservation.
Maintaining and developing their genetics is based on the results of 100 % organic crops and is a fast-growing company with a wonderful reputation for high quality seeds.