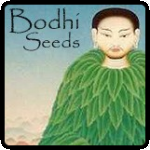 The Bodhi Seeds company is one of the cannabis world's most sought-after breeders owing to the genetics of their parent strains. They range from above-average to absolutely elite and these superior genetics allow them to produce seeds that are exceptionally reliable and consistent.
So what at the heart of this passion for excellence? For starters, Bodhi Seeds is a family-owned business. They have an extremely personal stake in what they do and in maintaining their already stellar reputation. They are also committed to using only organic methods to produce their seeds. They also carefully document and track the genetics of the strains they use and create to maximize quality, reliability and stability. Their seeds have an exceptional germination rate and a long shelf life.
Bodhi Seeds also maintains a creative edge in their hybridization projects. They know what strains will both cross the most effectively and deliver the best and most enjoyable experiences for cannabis growers and enthusiasts alike. Their lines include regular, landrace and heirloom strains along with several of their own limited edition varieties. All their parent plants are hand-selected and hand-cultivated and adhere to strict standards of quality control.
Bodhi Seeds are distributed all over the world and have a truly global following. They are the developers of a number of popular strains like Apollo 11, Tiger's Milk, Blue Pakistani and Space Mountain. Better yet, they have even more new and exciting strains in the works for release in the near future.
Even with so many international distributors and with growers in multiplied dozens of countries taking advantage of the opportunity to grow their seeds, Bodhi does like to keep a low online profile. Don't go looking for their website; they simply do not directly distribute their products. They rely solely on seed banks like ours instead to keep their seeds in circulation along. Their advertising begins and ends with the word of mouth testimonials of the many satisfied growers and users who enjoy their products every day throughout the world.
Bodhi seeds are easy to grow and lend themselves to any preferred growing method, both indoors and out. They work especially well in organic growing environments like those enjoyed by their parent plants and reward growers with above average yields.