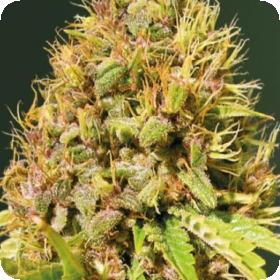 Super Mazar Auto Feminised Seeds
Super Mazar is an extremely heavy yielding strain, especially now that it is auto-flowering. The original Mazar was bred with a ruderalis/indica strain in order to create Super Mazar.
On its own Mazar was a triple award winner and was well known for its impressive yields and amazing flavour. Now this plant will produce large leaves and extraordinary yields of resin dripping buds.
This strain is also extremely resistant to mould and pests, making it perfect for novice and experienced growers alike. The flavour is extremely earthy and the effect is a classic indica full body relaxation.
This strain is both auto-flowering and feminised, making it easy to grow. Auto-flowering seeds do not require a complicated light cycle in order to flower, instead it just happens when they reach a certain age.
This shortens the flowering time of the plant as well as the stature. Even though the plants are smaller, they will still produce the same amazing yields. This makes them absolutely ideal for smaller grow spaces like balconies and window boxed.
Feminised seeds tend to be popular with growers, as they will only grow into female plants. This can save a lot of time, money and energy that would otherwise be wasted on the males. Feminised seeds also tend to be higher in quality and uniformity than regular plants.
This strain has a flowering time of 7 – 8 weeks indoors and around 11 weeks outdoors.
Remember that the cultivation of cannabis seeds is illegal in some countries, please check the laws of your country before attempting to cultivate cannabis seeds.