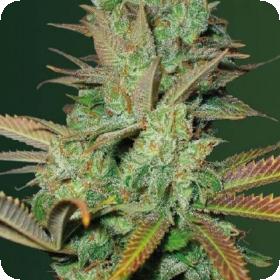 Seemango Auto Feminised Seeds
Seemango is a fruity and exotic strain created by Victory Seeds. It was already extremely popular in its original form and so Victory Seeds decided to throw in some of those much loved ruderalis genetics.
This strain now has a higher yield, a higher THC content and a smaller size. Seemango was already an award winner and now it's even better than ever.
This strain is most famous for its extremely strong mango flavour and its uplifting and energetic effect mingling with a nice, full body, relaxation. There are very few plants like this one and it is definitely a collection piece for connoisseurs.
This version of Seemango is both auto-flowering and feminised. Auto-flowering seeds will flower when they reach a certain age, as opposed to needing a light cycle.
This shortens the flowering time of the plant by reducing the vegetative stage, it will also reduce the height of the plant. Even though auto-flowering plants are smaller they will still produce fantastic yields.
This makes them ideal for indoor growing and commercial growing. Feminised seeds will only grow into female plants and are fantastic for growers. Growers tend to have no need for the male plants that take up half of a regular crop.
This means they have to be thrown away, which is a huge waste of time and money. Feminised seeds also tend to be higher in quality and uniformity than regular seeds.
This strain has a flowering time of 6 – 8 weeks indoors and 10 – 11 weeks outdoors.
Remember that the cultivation of cannabis seeds is illegal in some countries, please check the laws of your country before attempting to cultivate cannabis seeds.