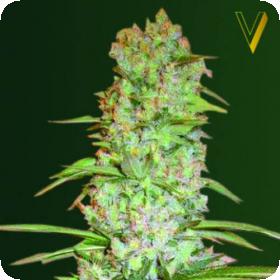 Red Russian XXL Auto Feminised Seeds
As the name suggests Red Russian XXL produces extremely large yields and has high THC levels. This strain is a cross between the famous White Russian and Lowryder #2, resulting in a truly incredible plant.
This strain is short, compact and extremely stable with an effect that will knock the proverbial socks straight off. The effect is thought to help with anxiety, bipolar disorder and migraines as well as pain and depression.
When used recreationally this strain is uplifting and creative. The flavour and scent are earthy with a hint of tropical fruit that makes the mouth water. This strain is really one of a kind and should be in every garden.
This strain is both feminised and auto-flowering, making it perfect for growers. Feminised seeds will only grow into female plants.
Since around half of a regular crop is male, and the males have to be thrown away if they are not being used for breeding, feminised seeds can save a tonne of time and money.
Feminised seeds also tend to be higher in quality and uniformity than regular seeds. Auto-flowering seeds will flower at a certain point in their life, rather than as the result of a light cycle.
This not only makes them easier to grow but gives them a shorter flowering time and a shorter stature. Despite their size these plants will still produce fantastic yields.
Red Russian XXL has a flowering time of 48 – 56 days and can be grown indoors and outdoors.
Remember that the cultivation of cannabis seeds is illegal in some countries, please check the laws of your country before attempting to cultivate cannabis seeds.
Genetics:
Red Russian XXL x Lowryder#2