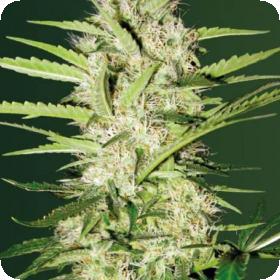 Parmesan Auto Feminised Seeds
Parmesan has been extremely popular over the last few years and, as a result, it has been bred with a Mexican ruderalis strain. The result is a fast flowering, high yielding plant with all of that delicious cheese flavour, scent and effect.
This strain produces extremely large buds covered in resin and can be harvested multiple times in one season. This strain is easy to grow and extremely potent, perfect for the many lovers of the Original Parmesan.  
This strain is both auto-flowering and feminised, making it easy to grow. Auto-flowering strains will flower automatically at a certain time in their lives, rather than as the result of a light cycle.
This means they have a shorter flowering time as well as a shorter stature. Despite their size these plants will still produce impressive yields. This makes them perfect for indoor growers and commercial growers.
Feminised seeds will only grow into female plants, making them perfect for growers who don't plan on breeding their own crops. For these breeders the male plants are a nuisance and can harm the females, so they have to be thrown away.
This is a huge waste of time and money that would be much better spent on the female plants. Feminised seeds also tend to be higher in quality and uniformity than regular seeds.
This strain has a flowering time of 7 – 8 weeks indoors and 10 – 11 weeks outdoors.
Remember that the cultivation of cannabis seeds is illegal in some countries, please check the laws of your country before attempting to cultivate cannabis seeds.
Genetics:
Exodus Parmesan x Ruderalis