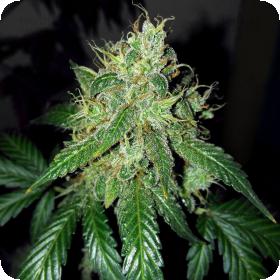 OG Kush Auto Feminised Seeds
OG Kush is a fantastic strain, loved all over the world by all types of growers and breeders. It has now been bred with OG Kush and a ruderalis strain in order to create a higher yielding, shorter flowering plant.
This strain produces dense buds covered in resin and has an extremely powerful effect.  
This strain is both feminised and auto-flowering. Feminised seeds will only grow into female plants which makes them perfect for growers who don't plan on breeding their own crops.
For these growers the male plants are a total nuisance and can actually harm the females during the flowering period. This means that the males have to be thrown away, which is a huge waste of time, money and energy.
Feminised seeds also tend to be higher in quality and uniformity than regular seeds. Auto-flowering plants will flower automatically rather than as the result of a light cycle.
This shortens the flowering time of the plant as well as the stature. Despite their smaller size these plants will still produce amazing yields.
This strain has a flowering time of 6 – 8 weeks indoors and 10 – 11 weeks outdoors.
Remember that the cultivation of cannabis seeds is illegal in some countries, please check the laws of your country before attempting to cultivate cannabis seeds.