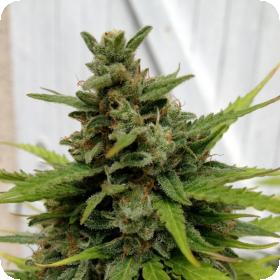 Heaven Auto Feminised Seeds
Heaven was already and extremely popular strain, known for its yield and powerful effect. Now this strain has been bred with ruderalis genetics and is better than ever.
Somehow the already ample yield has been improved. It is also great for beginners or guerilla growing as it is extremely resistant to fungus and mould. The buds are massive, dense and coated in resin crystals.
This strain is both auto-flowering and feminised. Auto-flowering seeds will flower at a certain time in their life rather than as the result of a light cycle. This makes them easier to grow than regular seeds while also shortening their flowering time and stature.
Even though these plants are usually smaller they will still produce fantastic yields. This makes them prefect for indoor growing and commercial growing. Feminised seeds will only grow into female plants, making them great for growers.
Most growers don't breed their own seeds and therefore have no need for the male plants. The males can damage the females during the flowering period and have to be removed, wasting a huge amount of time and money.
Feminised seeds also tend to be higher in quality and uniformity than regular seeds.
This strain has a flowering time of 7 – 8 weeks indoors or 10 – 11 weeks outdoors.
Remember that the cultivation of cannabis seeds is illegal in some countries, please check the laws of your country before attempting to cultivate cannabis seeds.
Genetics:
AK 47 x Mazar x Ruderalis