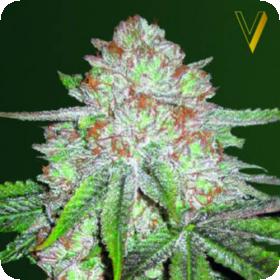 Chocodope Auto Feminised Seeds
Victory Seeds -  AUTO Chocodope Feminised Seeds
AUTO Chocodope is a fantastic strain that has all the amazing sweetness of the original Chocodope with an improved yield and flowering time.
This strain is sativa dominant and has an incredible flavour of fruit with a hint of chocolate. This is considered one of the best tasting strains around and the original has won a bunch of awards.
This strain produces fantastic yields of delicious buds with a fantastic effect.
This strain is both auto-flowering and feminised, making it ideal for growers. Auto-flowering plants will flower on their own at a certain point in their life cycle, rather than as the result of a light cycle.
This means that the plants will have a shorter flowering time as well as a shorter stature. Despite the small size of the plants they will still produce fantastic yields.
This makes them ideal for small growing spaces or for commercial growers. Feminised seeds will only grow into female plants. This means that growers can save a huge amount of time, money and space that would usually be wasted on male plants.
Feminised seeds also tend to be higher in quality and uniformity than regular plants.
This strain has a flowering time of 7 – 11 weeks and can be grown indoors, outdoors or in a greenhouse.