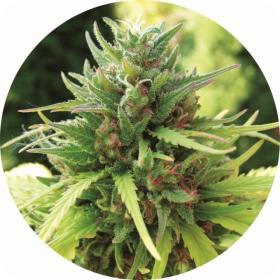 TaoMatic AUTO Regular Seeds
TaoMatic is an incredible auto-flowering strain with two possible phenotypes. It could grow into an indica or a sativa plant, the odds around 50/50. This strain is extremely manageable and easy to grow.
The main thing that stands out with this strain is the high level of CBD, making it a fantastic medicinal strain. The effect is extremely balanced and relaxing without being too intense.
The scent and flavour are also extremely pleasant and refreshing with hints of fresh grapefruit. Over all this is a stunning strain that deserves pride of place in any garden. 
TaoMatic is an auto-flowering and a regular plant. Auto-flowering plants will flower of their own volition, rather than as the result of a light cycle. This means they will have a shorter flowering time as well as a shorter stature.
Despite their size these plants will still produce hefty yields. This makes them ideal for commercial growers as well as those with smaller growing spaces. Regular seeds will grow into a combination of male and female plants, perfect for breeders.
The split of males and females will be around 50/50, with a few more females than males. This gives the breeder plenty of choice when it comes to selecting the parent plants, ensuring the next crop will improve in quality. 
This strain has a flowering time of 3 – 5 months and can be grown indoors or outdoors. 
Remember that the cultivation of cannabis seeds is illegal in some countries, please check the laws of your country before attempting to cultivate cannabis seeds.